Thursday, March 27, 6:30-8:30 p.m. at the Deschutes County Services Building, DeArmond Conference Room, 1300 Wall Street, Bend, OR 97701 (Map Below)

Open to the community. Free. Light refreshments provided.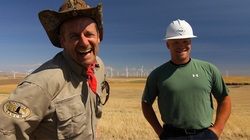 Author Gary Lewis: How to turn writing into a full time career: Out of the land of Goodfeelings through the desert of No-Attaboys, the writer, the scribe walks a lonely path, sometimes losing his or her way. Gary Lewis makes his home in Fulltime Land and he draws a map in the dirt for you and points you in the right direction.

Gary Lewis is an award-winning author, TV host, speaker and photographer. He has hunted and fished in seven countries on three continents and in the islands of the South Pacific. Born and raised in the Northwest, he has been walking forest trails and running rivers for as long as he can remember. He is a past and current president of the Northwest Outdoor Writers Association and a recipient of NOWA's Enos Bradner Award.

Lewis has penned 2,000 newspaper and magazine articles, some of his credits include Sports Afield, Rifle, Successful Hunter, African Sporting Gazette, Covey Rise, Cabela's Outfitter Journal, MDF and African Hunter.

Lewis is host of Gary Lewis' Adventure Journal, a TV show. He is the author of 14 books, including John Nosler Going Ballistic, Hunting Oregon, Black Bear Hunting, Complete Guide to Hunting and other titles. His latest release is now available: A Bear Hunter's Guide to the Universe: Crazy tales from Uncle Geddy and the Bear Mountain Gang.

Lewis lives in Central Oregon with his wife of 26 years, Merrilee, and his three daughters, all accomplished hunters in their own right.
www.garylewisoutdoors.com

Media release for Lewis' latest book:
A Bear Hunter's Guide to the Universe
Crazy tales from Uncle Geddy and the Bear Mountain Gang
By Gary Lewis

First published in Bear Hunting Magazine, Uncle Geddy's crazy tales of the hunt and real life are gathered here in one volume.

This book's chapters reveal hitherto unknown secrets about ghosts, family planning, how to afford a gun a month, how to break-in a new hunting car, getting in touch with inner feelings and getting in touch with extra-terrestrials. Also, in these pages, Uncle Geddy reveals age-old secrets like what does a couple bare do in the woods and how to communicate with a hunting dog.